DESIGN
FOCUSED SPECIALIST EMPOWERMENT

HBA - NO. 1 IN GLOBAL HOSPITALITY DESIGN
HBA--全球第一酒店设计品牌
金螳螂旗下子公司HBA是全球酒店室内设计第一品牌,总部设在新加坡,连续24年蝉联Hospitality Giants 全球酒店设计巨头排行榜榜首。日前在洛杉矶、伦敦、东京、新加坡、迪拜、上海、香港等23个城市设立办事处,业务遍布全球。
HBA. a subsidiary of Gold Mantis, is the No.1 brand of hotel interior design in the world. Headquartered in Singapore. For 24 consecutive years, it has been voted as the No.1 hotel interior design company in the world by "Interior Desig" magazine of the United States. At present, it has offices in 23 cities around the world,including Los Angeles, London. Tokyo, Singapore, Dubai, Shanghai,Hong Kong.
NO.1

CONDE NAST TRAVELLER
高端旅游杂志热门专栏
推荐50余次
SPECIALIST DESIGN
设计专业化
金螳螂拥有4000多名设计师的全球最大室内设计团队,完成了几千个大型和高端设计项目,与众多知名企业、国际酒店管理集团结成了战略伙伴关系。同时,金螳螂设计从依靠规模优势向专业化设计聚焦,成立了医疗、豪宅、宗教、文旅小镇、文化观演、教育等专业化事业部,逐步实现各细分领域的行业领先,打造中国装饰设计第一品牌。
Gold Mantis has the largest interior design team in the world with more than 4,000 designers, has completed thousands of large-scale and high-end design projects, and has formed strategic partnership with many well-known enterprises and international hotel management groups.At the same time, Gold Mantis design has changed its focus from relying on scale advantages to specialist design. It has established specialist business divisions in medical, luxury residences,religion facilities, cultural tourism town, cultural performance,education, etc., gradually realizing the industry leadership in various sub fields, and building the No. 1 brand for China's decoration design.
酒店空间

Hotel Space

洁净科技

Clean Technology

豪宅

Luxury Residences

文旅小镇

Culture & Tourism lown

宗教

Keligious Facilities

教育事业

Education

文化观演

Cultural Performing

商业空间

Commercial Space

办公空间

Office Space

轨道交通

Office Space
AFD
金螳螂AFD建筑设计事务所
茅台集团习酒商务体验中心

德尔亚洲碳谷总部基地
拥有建筑行业(建筑工程)甲级工程设计资质,目前有国家注册建筑师、结构工程师、注册设备工程师等众多优秀专业人才。多年来以精细设计为公司的设计宗旨,服务及时、细致周到,擅长工程造价的有效控制,是专业进行EPC等全过程控制项目的设计部门。
AFD architectural design office is a subsidiary of Gold Mantis group, the office has Class A Building Design Qualification in the building industry, currently has national registered architects, structural engineers, registered equipment engineers and many other outstanding professionals. Over the vears, the company has taken refined design as its design tenet, timely and considerate service, and is good at effective control of project cost. It is a design office specialized in EPC and other total process control projects.
CONSTRUCTION
SPECIALIST QUALITY CONTROL

REFINED MANAGEMENT SYSTEMS
精细化管理体系
金螳螂建有营销大平台、专业设计平台、专业设计平台、大工管平台、大成本平台、风控大平台等,打通各个管理模块,实现数据流、资金流、信息流的精确管理和共享,提高了决策科学性和效率。
Gold Mantis has built a large sales & marketing plattorm, specialist design platform, project management platform, cost control platform, risk control plattorm, etc., Which can open up various management modules, realize the reined management and sharing of data flow, capital flow and information flow, and improve the science and etficiency of decision-making.
EPC MODULE MANAGEMENT
EPC模块管理
金螳螂自身全专业设计、施工资源,组建EPC总承包管理团队,以项目需求为中心,为客户提供专业的一站式服务。
EPC平合根据项目专业需求,以客户为中心,整合金螳螂自身全专业设计、施工资源,组建EPC总承包管理团队,为客户提供专业的服务。
Gold Mantis has set up a EPC general contracting management team with its full design services and construction resources, which centered on project requirements to provide the customers with professional one-stop services.
According to professional needs of the project, the EPC platform takes customers as the center, integrates Gold Mantis' own professional design and construction resources, and establishes an EPC general contracting management team to provide professional services for customers.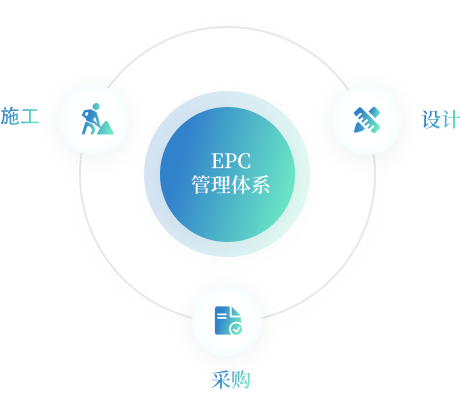 RESOURCES
Provide comprehensive support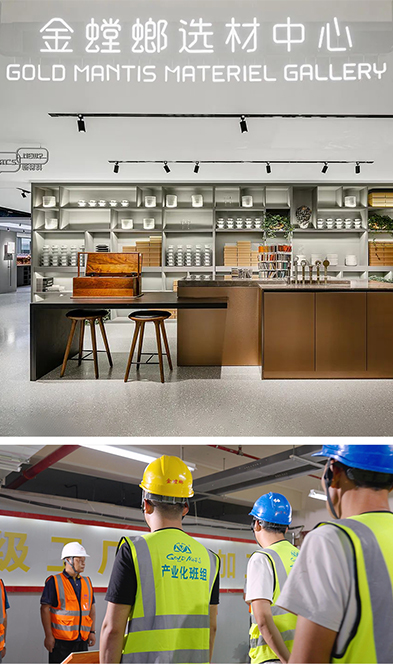 金螳螂拥有6万+劳务人员以及全球超400家优质供应商资源,并通过供应链管理系统20/80管理系统,实时对班组和供应商的饱和度进行预控、分析及调度,做到资源及时有效的匹配,为项目一线提供全面支撑。
金螳螂成立了专门的材料公司,大力整合石材、木饰面、金属等材料源头直购的能力,减少采购中间环节,进一步降低采购成本、保证材料品质。值得关注的是,针对深加工材料管理,金螳螂创新性地借鉴了高科技和高端制造企业的管理经验,直接管理到工厂末端生产线,实现对深加工产品的质量把控、产能预警和资源协调,确保品质稳定、按期生产。
在劳务资源方面,为应对建筑工人日益短缺、成本持续上涨的问题,金螳螂基于多年以来积攒的劳务资源,大力推行专项班组,由专项班组在各个专业工种中做专、做精。同时,金螳螂积极响应国家"十四五"建筑业发展规划,逐步打造产业化工人队伍,实行施工工人的公司化、专业化管理,实现工人资源整合和技术升级,解决工人存在流动性大、缺少社会福利保障、职业发展通道受阻等社会问题。
With 60,000+ laborers and more than 400 high-quality suppliers resources worldwide, Gold Mantis conducts real-time pre-control, analysis, and scheduling of teams and suppliers based on their capacity by the supply chain 20/80 management system to ensure timely and effective matching of resources and provide comprehensive support for project frontline.
Gold Mantis has established a specialized material company, vigorously integrating the capabilities of direct sourcing from the origins of stone, wood veneer, metal, and other materials to cut the intermediate links in purchasing, further lower the procurement cost, and guarantee the quality of materials effectively. It should be noted that for the management of deep-processing materials, Gold Mantis innovatively draws on the advanced expertise of high-tech and high-end manufacturing enterprises and performs factory end-of-line management directly to implement quality control, capacity warning, and resource coordination of deep-processed products, ensuring stable quality and on-schedule production.
In labor resources, to address the problems of the increasing construction worker shortage and rising costs, Gold Mantis has been vigorously implementing special teams based on the labor resources accumulated over the years, dedicated to specialized and refined work types. At the same time, Gold Mantis actively responds to the national "14th Five-Year Plan" for developing the construction industry, gradually builds an industrialized workforce, and implements the corporate professional management of construction workers, realizing the integration of worker resources, technology upgrading, and solving the social problems such as high labor turnover, inadequate social welfare security, and career development obstacles.
MANAGEMENT
ONE STOP SCIENTIFIC SYSTEM
管理是企业的生存之基。金螳螂持续提升以服务、监督、预警为职责的平台管理体系,实现了平台管理模式由管控到赋能的转变,全面提升公司管理效率,同时进一步明确公司内部前台、中台、后台的管理职责,实现各司其职、相互补位的高效管理,打造出职责明确、分工合理、协作高效的管理生态体系。
Management is the cornerstone of an enterprise's survival. Through continuous improvement of the platform management system with service, supervision, and early warning as responsibilities, Gold Mantis has achieved a significant transformation of the platform management model from control to empowerment, comprehensively enhancing the company's management efficiency. Meanwhile, the company's internal management responsibilities of the front-, middle-, and back-office are further clarified to implement efficient management where all units perform their respective functions and complements each other, thereby building a management ecosystem with clear responsibilities, rational division of work, and highly efficient collaboration.


DIGITALIZED MANAGEMENT PLATFORM
数字化管理平台
近年来,金螳螂启动了信息化管理的升级,打造以 ERP2.0 移动 金螳螂+项目指挥中心+管理驾驶舱为核心的信息化管理平台,做到管理数据化、模块化、规范化,实现对项目安全、质量、工期与动态预警的实时监控。

In recent years, Gold Mantis has launched the upgrade of information management to build an information management platform with ERP2.0 Mobile Gold Mantis + Project Command Center + Management Cockpit at its very core for data-based, modular, and standardized management to implement real-time monitoring of project safety, quality, schedule, and dynamic warning.

拥有5000多人的项目管理团队,其中注册建造师1200多名。金螳螂善于用行业尖端视角启发和培养专业人才,打造具有创新思维的管理团队,通过标准化、精细化管理,确保项目工期可控、品质优良、反应迅速、服务到位、客户满意。




Gold Mantis has a project management team of more than 5,000 people including more than 1,200 Registered Builders Gold Mantis is good at using the industry's cutting-edge perspec-tives to cultivate professional talent team. Through standardized and refined management, it ensures that project duration is controllable, quality is excellent.the response is rapid.ser-vices are in place. and customers are satisfied.




金螳螂始终坚持"不转包、不挂靠",经过多年管理经验的累积沉淀,自主研发了20/80项目管理系统,将项目全过程管理分解为45个关键任务节点,实现项目管理四化:模块化、标准化、数字化、信息化,从而确保项目高品质的按期交付。

Gold Mantis has always adhered to the principle of "no subcontracting, no affiliation".After years of management experience accumulation and overview,it has independently developed the 20 / 80 project management system, which divides the whole process management of the project into 45 key tasks, realizes the modularization,standardization,digitalization and information management of project management, to ensure that projects meet the handover standard with excellent quality.

为贯彻"战区主战"方针,金螳螂打造了由投标、招标、供应链、成控、项管组成的资源整合大工管平台,作为项目作战指挥中枢机构,统一目标,统一指挥,为一线提供资源匹配,为业主提供更加优质的服务。

In order to implement the policy of"main battle in theater".Gold Mantis has built a resource integrated large-scale project management platform consisting of tendering.bidding,supply chain,cost control and project management. Acting as the command centre for projects, the platform has unified command,unified goal, provided resources matching with projects for the front line and provided better services for the owners.